Description of new digimode: SIM_PSK
Name of software:
SIM_PSK
Development:
2014
Conceived by :
NIZAR BEN REJEB
Origine :
Tunisia.
First Issue:
October 2014
Modes :
BPSK 31 and 63 bps (125 also foreseen ).
Modulation :
DBPSK « Differential Binary Phase Shift Keying ».
Pulse shape :
Similar to classic BPSK31
Bandwidth :
About 60 Hz
Demodulation :
Coherent demodulation
Synchronization :
automatic on signal
Error correction :
FEC (Forward Error Correction)
tolerates one error bit per character
Convolution code :
NO (it makes the synchronization too slow)
Interleaved:
YES
Repetition :
YES, but only for some messages structured as CQCQ, QRZ, QRALOC, NOM, QTH,
Drift tolerance :
20 Hz/min (depending on signal level)
Lower limit of intelligibility:
-15.5 dB in text mode. Until -17dB in message mode (in presence of white noise with a bandwidth of 3 kHz)
Reception mode :
indifferent (LSB or USB) Note: The frequency adjustment is simplified by staying in USB on all bands
Characters set :

53 "fixed code" A..Z 0..9 <CR> <SPACE> . , : - = + ? ' ( ) ! / @ # *
No character reset on error nor wait character (). Lowercase characters are converted to uppercase,

Special Characters :
The special characters such as "É" are converted into standard capitals characters (in this example: "E") but can be displayed in lowercases locally
Messages:
The messages used by the ham-radio are coded and structured.
Speed :
187 char/min ( or 31.25 wpm)
Principle :

"varicode" able to encode characters, words and full sentences.
S I M = Structured Integrated Message BPSK31.

Structure :
variable code length, from 10 to 100 bits
according to characters… words… sentences.
Software availability
since October 2014 on www.on4nb.be/sim.htm .
Advantages :
Varicode optimized : less sensitive to noises by the use of interleaved fields
Error Correction: by FEC (Forward error correction).
Digital Squelch based on signals coherence.
Very fast transmission due to coding whole sentences.
Gain of 5 dB on an analog PSK (decoding of signals imperceptible on a waterfall).
Mode "split", allowing to use an independent frequency, for receiving and transmission (in the same band).
Automatic centering on the selected frequency, by a mouse click.
Displaying the "Eye diagram".
No special installation. Just copy the exe file or, if necessary, copy / unzip the .RAR file, and paste it where you want .
Permanent evolution, responding to users requests.
Hyperlink to "DX Cluster" and "PSK-reporter." announcing in real time via Internet the presence of the station using the SIM mode, and where it is received.

Eye diagram :
Instant confirmation of the correct setting:
Signal Type : conformity of modulation, PSK, QPSK, FSK, etc..
Speed : Compliance of bitrates, 31.25 Hz ... 62.5 Hz ( 125…)
Accuracy : bit synchronization, immediate detection of a drift on the diagram....
Monitoring : decoding quality, visible distortions in place of straight lozenges
Diagnostic : identification de défauts éventuels.

A click on a crest and here is what looks like the "eye diagram" for proper reception
• The straight shape of the lozenges confirms that it is a correct PSK mode.
• The frequency is correct (cursor centered on crest) no interference.
• Good binary synchronization signal (diamonds do not slip).


Hereunder , no signal received... the eye diagram does show only noise.

Receiving a signal PSK31... ( Strong signal, no QRM )
wrong selection of mode PSK63, so that it displays only half of a diamond.

Receiving a signal PSK63... ( Strong signal, no QRM )
Wrong selection of mode PSK31, so that it displays twice the lozenges.

Explanation of the eye diagram
The cursor is not on the frequency of the received signal.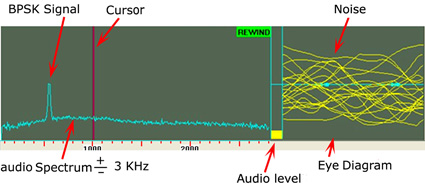 Summary charts describing :
First view : signal and bitrate are ok
second diagram : signal is 31Hz, but choosen bitrate is 63 Hz
Third diagram : signal is at 63 Hz but choosen bitrate is 31 Hz
below: bandwidth for 31 and 63 Hz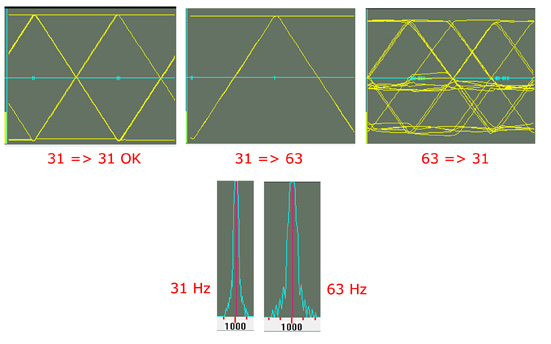 SIM31 - SIM63